Hollywood Palladium | Los Angeles, California
ITS TIME TO WITNESS – Zomboy as he hits the Hollywood Palladium on Saturday 1st July 2017! The energy that this EDM/Dubstep producer and DJ brings to a live stage is out of this world!
Are you pumped enough to handle the sheer force of the squelchy bass?? Put it to the test on this insane Summer night! The grounds gonna' be shaky, the crowd will be non-stop moving and you, yes YOU – can be there!! Bass face at the ready… tickets are available right here, right now!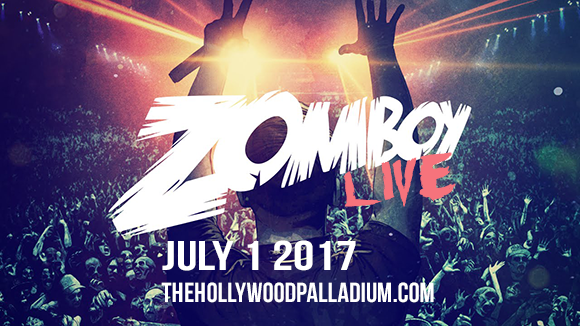 Influenced by the one and only, Skrillex, Zomboy is quickly becoming one of the biggest Electronic Music Producers out there right now, with his chest punching sound, he's truly a must-see for any EDM, Dubstep fan! Hitting the ball rolling back in 2011, he released the unstoppable "Organ Donor" and once his debut EP was in the mix, he smashed the Dubstep charts for 8 weeks and counting… through the success, everyone wanted a piece of him, Warner, Ministry of Sound… you name it! Remixes arrived and fans gathered to follow his career, through the album releases and live tours!
This guy just keeps on stepping up his game and each show is heavier and more badass than before – if you're lucky enough to catch him this coming Summer as he travels across North America, then whatever you do – don't miss out!